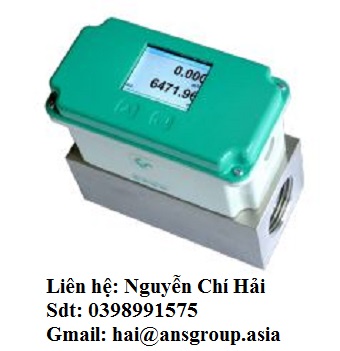 Compact in-line flow sensor VA 525 Cs Instruments, VA 525 flow sensor Cs Instruments, Cs Instruments Đại Lý Việt Nam
Xuất sứ: Germany
Nhà cung cấp: Anh Nghi Sơn – ANS VietNam
Hãng sản xuất: CS Instruments Viet Nam
Liên hệ tư vấn
Mr Hải

hai@ansgroup.asia

0398.991.575

live:hai_502
Compact in-line flow sensor VA 525 Cs Instruments, VA 525 flow sensor Cs Instruments, Cs Instruments Đại Lý Việt Nam.
Cs Instruments Vietnam​. Nhà cung cấp Anh Nghi Sơn - ANS Viet Nam.
Cung cấp tất cả máy móc, thiết bị của Cs Instruments.
Flow sensor with integrated flow straightener / no inlet sections necessary
The newly developed VA 525 combines modern digital interfaces for connection to an energy monitoring system with a small, compact design. Due to its reasonable price and modern digital interfaces this compact in-line flow sensor is used when many machines (compressed air consumers) are to be integrated as easily as possible into an energy monitoring network.
The high-contrast, integrated display also displays the current values rotated by 180° if desired (very useful for overhead installation). Depending on the configuration, two of the following values can be displayed:
Current consumption in m³/h, l / min, ...
Total consumption (meter reading) in m³, l, kg
Temperature measurement
Optional: Pressure measurement
Special advantages of the flow sensor VA 525
Compact, small design - for use in machines, behind maintenance unit at the end user
Optionally with classic analogue signals (4...20 mA and pulse) or digital interfaces such as Modbus RTU, Ethernet (also PoE), M-Bus
All interfaces are programmable via the display
DESCRIPTION ORDER-NR. Compact inline flow sensor 0695 5250 + order code A_...R_
TECHNICAL DATA VA 525 Parameters: m³/h, l/min (1000 mbar, 20 °C) in case of compressed air resp. Nm³/h, Nl/min (1013 mbar, 0°C) in case of gases
Units adjustable via keys at display: m³/h, m³/min, l/min, l/s, ft/min, cfm, m/s, kg/h, kg/min, g/s, lb/min, lb/h
Sensor: Thermal mass flow sensor
Meas medium: Air, gases
Gas types over CS Service Software or CS Datalogger adjustable: Air, nitrogen, argon, CO2, oxygen
Measuring range: See table above
Accuracy: (f. M. = from the measured value) (f. E. = from end value) ± 1,5 % of m. v. ± 0,3 % of f. s. By request: ± 1 % of m. v. ± 0,3 % of f. s. or ± 6 % of m. v. ± 0,5 % of f. s.
Pressure measurement: 0...16 bar, accuracy: 1%
Operating temp.: -30...80 °C
Operating pressure: Up to 16 bar
Digital output: RS 485 interface (Modbus RTU), M-Bus (optional) Ethernet interface or PoE
Analog output: 4...20 mA for m³/h resp. l/min
Pulse output: 1 pulse per m³ or per liter galvanically isolated. Pulse value adjustable on the display. Alternatively, the pulse output can be used as an alarm relay
Power supply: 18...36 VDC, 5 W
Burden: < 500 Ω
Housing: Polycarbonate (IP 65)
Meas. section: Aluminium
Mounting thread meas. section: G 1/4" to G 2" (BSP British standard piping) resp. 1/2" to 2" NPT-thread
Mounting position: Any
Liên hệ: Nguyễn Chí Hải
Sdt: 0398991575
Gmail: hai@ansgroup.asia