FA 550 Dew point sensor CS Instruments, Dew point sensor FA 550 CS Instruments Viet Nam, CS Instruments Đại Lý Việt Nam
Xuất sứ: Germany
Nhà cung cấp: Anh Nghi Sơn – ANS VietNam
Hãng sản xuất: CS Instruments Viet Nam
Liên hệ tư vấn
Mr Hải

hai@ansgroup.asia

0398.991.575

live:hai_502
FA 550 Dew point sensor CS Instruments, Dew point sensor FA 550 CS Instruments Viet Nam, CS Instruments Đại Lý Việt Nam.
Cs Instruments Vietnam​. Nhà cung cấp Anh Nghi Sơn - ANS Viet Nam.
Cung cấp tất cả máy móc, thiết bị của Cs Instruments.
FA 550 - Dew point sensor in robust die-cast aluminum housing
Robust dew point sensor for compressed air and gases
The FA 550 is ideally suited for outdoor dew point measurement and reliably determines dew points even under harsh industrial conditions.
Application examples
Dew point measurement in compressed air systems after adsorption dryers, membran dryers or refrigeration dryer
Residual moisture measurement and dew point measurement in gases such as: oxygen, nitrogen, argon, hydrogen, natural gas, biogas...​
Special features of the dew point sensor FA 550:
Robust, waterproof die-cast aluminum housing, IP 67
Alarm relay - limit value adjustable via buttons (max 60VDC, 0.5 A)
4 ... 20 mA analog output
Optional: 2 pieces 4 ... 20 mA analog output e.g. for dew point and temperature
Extremely long-term stable
Fast adjustment time
Pressure resistant up to 500 bar (optional)
NEW: Modbus RTU interface
NEW: Ethernet interface (optional)
NEW: Higher resolution of the sensor signal due to improved evaluation electronics
NEW: Sensor diagnosis on-site with handheld device or CS Service Software
Readable via Modbus: pressure dew point [° Ctd.], temperature [° C], rel. humidity [% RH], abs. humidity [g / m3], degree of humidity [g / m3], moisture content V / V [ppmV / V], Partial vapor pressure [hPa], atmospheric dew point [° Ctd.atm]
TECHNICAL DATA FA 550
Measuring range: -80...20 °Ctd, -60...30 °Ctd, -20...50 °Ctd, bzw. 0...100% RH
Accuracy: ± 1°C to +50...-20°Ctd ± 2°C to -20...-50°Ctd ± 3°C to -50...-80°Ctd
Pressure range: -1 ... 50 bar, Special version up to 350 bar or 500 bar
Power supply: 24 VDC (18...30 VDC)
Protection class: IP 67
EMC: According to DIN EN 61326-1
Operating temp.: -20...50 °C
Outputs: Standard: Modbus RTU, 4 ... 20 mA active (not electrically isolated), alarm relay (max 48 VDC, 0.5 A) Options: See order code
Burden: < 500 Ω
Material: Housing die-cast aluminum, Sensor tube stainless steel 1.4571
Screw: G 1/2", optional 5/8" UNF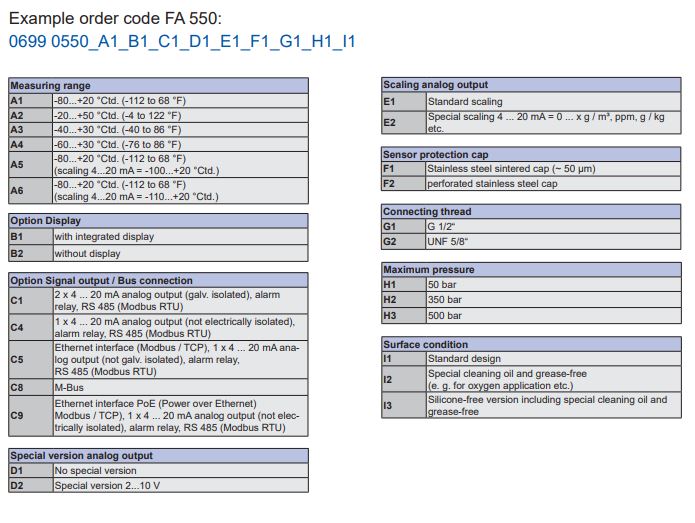 ORDER-NO.
0699 0550
Additional accessories:
0699 3390
0699 3590
0699 3290
Connection cables:
0553 0108
0553 0109
0553 2503
0553 2504
0554 0110
0554 2007
0553 0552
Calibration and adjustment:
0699 3396
0700 7710
Liên hệ: Nguyễn Chí Hải
Sdt: 0398991575
Gmail: hai@ansgroup.asia