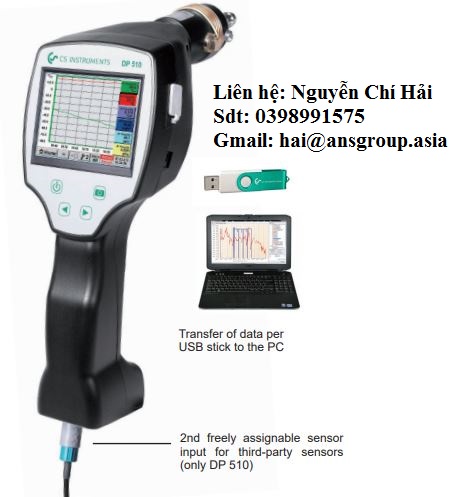 DP 510 Portable dew point meter Cs Instruments, Portable dew point meter DP 510 Cs Instruments Viet Nam, Cs Instruments Đại Lý Việt Nam
Xuất sứ: Germany
Nhà cung cấp: Anh Nghi Sơn – ANS VietNam
Hãng sản xuất: CS Instruments Viet Nam
Liên hệ tư vấn
Mr Hải

hai@ansgroup.asia

0398.991.575

live:hai_502
DP 510 Portable dew point meter Cs Instruments, Portable dew point meter DP 510 Cs Instruments Viet Nam, Cs Instruments Đại Lý Việt Nam.
Cs Instruments Vietnam​. Nhà cung cấp Anh Nghi Sơn - ANS Viet Nam.
Cung cấp tất cả máy móc, thiết bị của Cs Instruments.
DP 510 - Portable dew point meter with third-party sensor
and integrated data logger. With DP 510 it is possible to performing all measuring tasks with one instrument. It disposes of all functions of DP 500 and has an additional freely assignable sensor input. Additionally to the internal dew point measurement one further optional sensor can be connected. So you could meet nearly all industrial measuring tasks.
Main features of our portable dew point meter DP 510:
Separate pressure measurement
Dew point distance via external temperature sensor
Compressed air consumption measurement
Active power in kWh/kW
TECHNICAL DATA DP 500/510
Display: 3.5" Touch screen
Measuring range: -80...+50°Ctd -20...+70°C 0...100 %rF
Accuracy: ± 0,5°Ctd bei -10...+50°Ctd Typ. ± 2°Ctd (remain. range)
Moisture parameters: g/m³, mg/m³, ppm V/V, g/kg, °Ctdatm, %rF
Pressure range: -1...50 bar standard -1...350 bar special version
Interface: USB interface
Data logger: 8 GB SD memory card (100 millions values)
Power supply for sensors: Output voltage: 24 VDC ± 10% Output current: 120 mA continuous operation
Power supply: Internal rechargeable Li-Ion batteries, approx 12 h continuous operation, 4 h charging time
Screw-in thread: G 1/2" stainless steel
Ambient temperature: 0...+50°C
EMV: DIN EN 61326-1
ORDER-NO
0600 0510
0560 0510
0699 4490
0554 0003
0554 0009
0554 0002
0530 1101
0699 2500
0554 6510
Z500 5107
Z500 5106
0554 8040
0699 3396
0700 7710
0699 3590
0699 3690
0699 3490
0560 0512
0560 0501
Liên hệ: Nguyễn Chí Hải
Sdt: 0398991575
Gmail: hai@ansgroup.asia