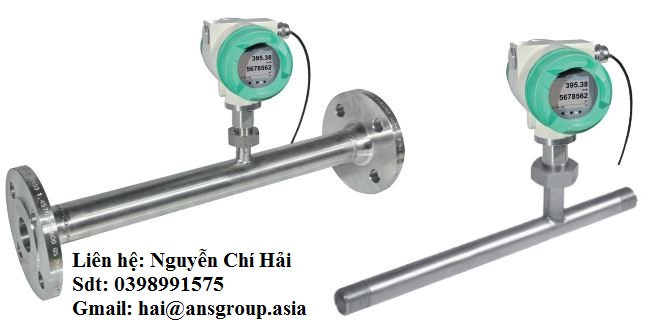 VA 570 - Flow meter
Xuất sứ: Germany
Nhà cung cấp: Anh Nghi Sơn – ANS VietNam
Hãng sản xuất: CS Instruments Viet Nam
Liên hệ tư vấn
Mr Hải

hai@ansgroup.asia

0398.991.575

live:hai_502
Inline flow meter VA 570 Cs Instrucments, VA 570 Inline flow meter, Cs Instrucments Đại Lý Việt Nam, 0695 0570 Cs Instruments.
Cs Instruments Vietnam​. Nhà cung cấp Anh Nghi Sơn - ANS Viet Nam.
Cung cấp tất cả máy móc, thiết bị của Cs Instruments Vietnam​.
VA 570 - Flow meter with integrated measuring section
TECHNICAL DATA VA 570
Measuring range VA 570: up to 50 Nm/s, Low Speed version*
up to 92,7 Nm/s, Standard version*
up to 185 Nm/s, Max version*
up to 224 Nm/s, High Speed version* *
Measuring range Nm³ / h for different pipe diameters and gases, see table measuring ranges flow *
All measurements related to DIN 1343 standard conditions 0 ° and 1013 mbar ex works
Accuracy: accuracy class (m.v.: of meas. value) (f.s.: of full scale) ± 1.5 % of m.v. ± 0.3 % of f.s. on request ± 1.0 % of m.v. ± 0.3 % of f.s.
Accuracy indications: referred to ambient temperature 22 °C ± 2°C, system pressure 6 bar
Repeatability: 0.25 % of m.v. in case of correct mounting (mounting aid, position, inlet section)
Measuring principle: Thermal mass flow sensor
Response time: t90 < 3 s
Operating temperature range probe tube/display unit: -40...180 °C probe tube -40...70 °C display unit -40...120 °C for ATEX version
Adjustment possibilities via display, external hand-held meter PI 500, PC Service Software, remote diagnosis: Nm³/h, Nm³/min, Nl/min, l/s, ft/min, cfm, kg/h, kg/min, inside diameter, reference conditions ° C/° F, mbar/hPa, zero point correction, low flow cut off, scaling Analog output 4 ... 20 mA, pulse/alarm, error codes etc
Outputs: Standard: 1 x 4 ... 20 mA analog output (not electrically isolated), pulse output, RS 485 (Modbus RTU) Optional: 2 x 4 ... 20 mA active, Modbus TCP, HART, Profibus DP, Profinet, M-Bus
Burden: < 500 Ohm
Additional average value calculation: for all parameters freely adjustable from 1 minute up to 1 day, e. g. 1/2 hours average value, average day value
Protection class : IP 67
Material: Housing aluminium die cast, probe tube stainless steel 1,4571
Operating pressure: 16 bar, in special version 40 bar
Power supply: 18...36 VDC, 5 W
Approval: ATEX II 2G Ex d IIC T4, DVGW
Dimension Flange
Dimension pipe thread R thread or NPT thread
Special measurement technology features:
4 values in the display: Flow, total consumption, velocity, temperature. Units freely adjustable
All measured values, settings like gas type, inner diameter, serial number and so on retrievable via Modbus RTU
Comprehensive diagnosis functions readable at the display or remote access via Modbus like e. g. exceeding of max/min values °C, calibration cycle, error codes, serial number
Notification in case of exceeding of the calibration cycle
Standard version accuracy 1.5 % of m.v. ± 0.3 % of f.s.
Precision version accuracy 1.0 % of m.v. ± 0.3 % of f.s.
Measuring span of 1 : 1000 (0.1 up to 224 m/s)
Configuration and diagnosis via display, hand-held instrument PI 500, PC service software on-site
Gas type (air, nitrogen, oxygen, argon and so on) freely adjustable via PC service software or external device DS 400, DS 500, PI 500
Reference conditions °C and mbar/hPa freely adjustable
Zero-point adjustment, leak flow volume suppression
Pressure loss negligible
Special mechanical features:
Robust impact-proof aluminum die cast housing for the outdoor area IP 67
All medium-touching parts made from stainless steel 1,4571
On request with ATEX approval ATEX II 2G Ex d IIC T4 (up to 120 °C)
On request with DVGW approval for natural gas (up to 16 bar)
Pressure rang up to 16 bar, special version up to 40 bar
Temperature range up to 180 °C
No moving parts, no wear out
Sensor tip very robust, easy to clean
Housing turnable, display turnable by 180°
Optional: Connection to different Bus systems
There are different options available for connection to modern Bus systems:
Ethernet interface (Modbus-TCP) / PoE
M-BUS
Modbus-RTU
Profibus DP interface (in processing)
Profinet interface (in processing)
HART (in processing)
VA 570 Flow sensor with integrated 1/2" measuring section
0695 0570
VA 570 Flow sensor with integrated 3/4" measuring section
0695 0571
VA 570 Flow sensor with integrated 1" measuring section
0695 0572
VA 570 Flow sensor with integrated 1 1/4" measuring section
0695 0573
VA 570 Flow sensor with integrated 1 1/2" measuring section
0695 0574
VA 570 Flow sensor with integrated 2" measuring section
0695 0575
VA 570 Flow sensor with integrated DN 15 measuring section with weld neck flange
0695 2570
VA 570 Flow sensor with integrated DN 20 measuring section with weld neck flange
0695 2571
VA 570 Flow sensor with integrated DN 25 measuring section with weld neck flange
0695 2572
VA 570 Flow sensor with integrated DN 32 measuring section with weld neck flange
0695 2573
VA 570 Flow sensor with integrated DN 40 measuring section with weld neck flange
0695 2574
VA 570 Flow sensor with integrated DN 50 measuring section with weld neck flange
0695 2575
VA 570 Flow sensor with integrated DN 65 measuring section with weld neck flange
0695 2576
VA 570 Flow sensor with integrated DN 80 measuring section with weld neck flange
0695 2577
| | |
| --- | --- |
| Further accessories: | |
| Connection cable for sensors 5 m with open ends | 0553 0108 |
| Connection cable for sensors 10 m with open ends | 0553 0109 |
| Ethernet connection cable length 5 m, M12 plug x-coded (8 poles) to RJ 45 plug | 0553 2503 |
| Ethernet connection cable length 10 m, M12 plug x-coded (8 poles) to RJ 45 plug | 0553 2504 |
| 5 point precision calibration of new instrument with ISO certificate | 3200 0001 |
| Additional calibration point volume flow VA5xx serial, freely selectable | 0700 7720 |
| CS Service software incl. PC connection set for FA/VA 5xx sensors | 0554 2007 |
| High-pressure protection f. installation from 10 to 100 bar (for VA 550) | 0530 1115 |
| High-pressure protection f. installation from 10 to 16 bar DVGW (for VA 550) | 0530 1116 |
| PNG cable screwing - standard | 0553 0552 |
| PNG cable screwing – for ATEX | 0553 0551 |
Liên hệ: Nguyễn Chí Hải
Sdt: 0398991575
Gmail: hai@ansgroup.asia