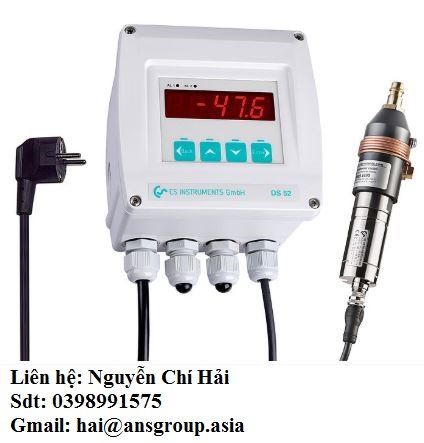 DS 52-set Dew point measurement CS Instruments, Dew point measurement DS 52-set CS Instruments Viet Nam, CS Instruments Đại Lý Việt Nam
Xuất sứ: Germany
Nhà cung cấp: Anh Nghi Sơn – ANS VietNam
Hãng sản xuất: CS Instruments Viet Nam
Liên hệ tư vấn
Mr Hải

hai@ansgroup.asia

0398.991.575

live:hai_502
DS 52-set Dew point measurement CS Instruments, Dew point measurement DS 52-set CS Instruments Viet Nam, CS Instruments Đại Lý Việt Nam.
Cs Instruments Vietnam​. Nhà cung cấp Anh Nghi Sơn - ANS Viet Nam.
Cung cấp tất cả máy móc, thiết bị của Cs Instruments.
Special features:
• System ready for plug-in: Everything completely wired
• No time-consuming studying of the instruction manual
• 2 alarm contacts (230 VAC, 3 A) pre- and main alarm freely adjustable
• 4...20 mA analogue output
• Option alarm unit: Buzzer and continuous red light
Option: Alarm unit (Buzzer and continuous red light)
Consisting of: Digital process meter DS 52
TECHNICAL DATA DISPLAY DS 52
Dimension: 118 x 92 x 93 mm
Display: LED red, 7 segments, height: 13 mm, 5 digits, 2 LED for alarm relay
Keypad: 4 keys
Input: 4...20 mA
Power supply: 230 VAC, 50/60 Hz; Option: 24 VDC or 110 VAC 50/60 Hz
Alarm outputs: 2 x relay output, changeover contact, 250 VAC, max. 3 A
Operating temperature: -10...+60 °C (storage temperature -20°C...+80°C)
Alarm thresholds: freely adjustable
Hysteresis: 2 °Ctd
Analog output: 4...20 mA = -80...20 Ctd or -20...50°Ctd
ORDER-NO.
Dew point monitoring DS 52 for desiccant driers consisting of: 0600 5100
DS 52 LED display in wall housing 0500 0009
FA 510 dew point sensor for desiccant driers -80°...20°Ctd incl. 0699 0510
Standard measuring chamber up to 16 bar 0699 3390
Connection cable for VA/FA sensors, 5 m 0553 0104
Dew point monitoring DS 52 for refrigeration dryers, consisting of: 0600 5120
DS 52 LED display in wall housing 0500 0009
FA 510 dew point sensor for refrigeration dryer -20...50°Ctd 0699 0512
Standard measuring chamber up to 16 bar 0699 3390
Connection cable for VA/FA sensors, 5 m 0553 0104
Options:
Power supply 24 VDC (instead of 230 VAC) Z500 0001
Power supply 110 VAC (instead of 230 VAC) Z500 0002
Alarm unit mounted at wall housing Z500 0003
Alarm unit for external mounting with 5 m cable Z500 0004
Calibration and adjustment:
Precision calibration at -40°Ctd including ISO certificate 0699 3396
Additional calibration point freely selectable 0700 7710
Liên hệ: Nguyễn Chí Hải
Sdt: 0398991575
Gmail: hai@ansgroup.asia