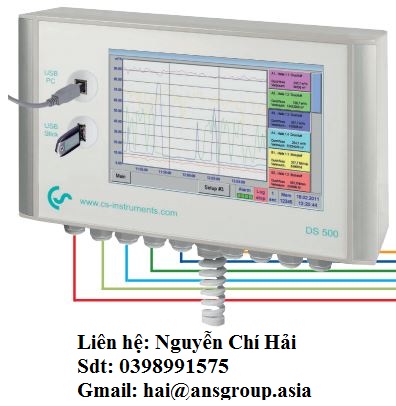 DS 500 Intelligent chart recorder Cs Instruments Viet Nam, Intelligent chart recorder DS 500 Cs Instruments Viet Nam, Cs Instruments Đại Lý Việt Nam
Xuất sứ: Germany
Nhà cung cấp: Anh Nghi Sơn – ANS VietNam
Hãng sản xuất: CS Instruments Viet Nam
Liên hệ tư vấn
Mr Hải

hai@ansgroup.asia

0398.991.575

live:hai_502
DS 500 Intelligent chart recorder Cs Instruments Viet Nam, Intelligent chart recorder DS 500 Cs Instruments Viet Nam, Cs Instruments Đại Lý Việt Nam.
Cs Instruments Vietnam​. Nhà cung cấp Anh Nghi Sơn - ANS Viet Nam.
Cung cấp tất cả máy móc, thiết bị của Cs Instruments.
Advantages at a glance:
• Clear layout: 7" color screen with touch panel...
• Versatile: Up to 12 optional sensors can be connected...
• Suitable for industrial applications: Metal housing IP 65 or panel mounting
• Data available through world wide web: Networkcompatible and remote transmission via webserver
• Intelligent: Daily/weekly/monthly reports...
• Mathematical function for internal calculations
• Totalizer function for analogue signals
• ... Saves time and costs during installation
By means of the intelligent chart recorder DS 500, all measuring data of a compressor station can be recorded, indicated and evaluated. At 12 freely assignable sensor inputs all our sensors can be connected as well as any optional third-party sensors and meters with the following signal outputs: 4-20 mA, 0-20 mA I 0-1 V / 0-10 V / 0-30 V I Pt 100 (2- or 3-wire), Pt 1000 (2- or 3-wire), KTY I pulse outputs (e.g. of gas meters) frequency output I Modbus protocol.
Technical data of the DS 500
Dimensions of housing: 280 x 170 x 90 mm, IP 65
Connections: 18 x PG 12 for sensors and supply
Version panel mounting: Cutout panel 250 x 156 mm
Weight: 7.3 Kg
Material: Die cast metal, front screen polyester
Sensor inputs: • 4/8/12 sensor inputs for analogue and digital sensors freely allocatable. See options • Digital CS sensors for dew point and consumption with SDI interface FA/VA series, digital third-party sensors RS 485 / Modbus RTU, other bus systems realizable on request. • Analogue CS Sensors for pressure, temperature, clamp-on ammeters pre-configured. • Analogue third-party sensors 0/4...20 mA, 0...1/10/30V, pulse, Pt 100 / Pt 1000, KTY
Power supply for sensors: 24 VDC, max. 130 mA per sensor, integrated mains unit max. 24 VDC, 25 W. In case of version 8/12 sensor inputs, 2 integrated mains units each max. 24 VDC, 25 W.
Interfaces: USB stick, Ethernet / RS 485 Modbus RTU / TCP, SDI other bus systems on request, WEB server optionally
Outputs: • 4 relays (changeover contact 230 VAC, 6 A), alarm management, relays freely programmable, collective alarm • Analogue otuput, pulse in case of sensors with own signal output looped, like e.g. VA/FA series
Memory card: Memory size 4 GB SD memory card standard
Power supply: 100...240 VAC / 50-60 Hz, special version 24 VDC
Color screen: 7" touch panel TFT transmissive, graphics, curves, statistics
Accuracy: see sensor specifications
Operating temperature: 0...50°C
Storage temperature: -20...70°C
Optionally: Webserver
Optionally: Option "energy and flow report" statistics, daily/weekly/monthly report
INPUT SIGNALS
Current signal: internal or external power supply Measuring range Resolution Accuracy Input resistance (0...20mA/ 4...20mA) 0...20 mA 0.0001 mA ± 0.03 mA ± 0.05 % 50 Ω
Voltage signal: Measuring range Resolution Accuracy Input resistance (0...1 V) 0...1 V 0.05 mV ± 0.2 mV ± 0.05 % 100 kΩ
Voltage signal: Measuring range Resolution Accuracy Input resistance (0...10 V / 30 V) 0...10 V 0.5 mV ± 2 mV ± 0.05 % 1 MΩ
RTD Pt 100 Measuring range Resolution Accurancy -200...850°C 0.1°C ± 0.2°C (-100...400°C) ± 0.3°C (further range)
RTD Pt 1000 Measuring range Resolution Accuracy -200...850°C 0.1°C ± 0.2° (-100...400°C)
Pulse Measuring range min. pulse length 500 µs frequency 0...1 kHz max. 30 VDC
ORDER-NO
0500 5000
Z500 5001
Z500 5002
Z500 5003
Z500 5004
Z500 5006
Z500 5007
Z500 5008
Z500 5009
Z500 3008
0554 8040
0554 8041
0554 8042
0554 8043
0554 8044
Liên hệ: Nguyễn Chí Hải
Sdt: 0398991575
Gmail: hai@ansgroup.asia