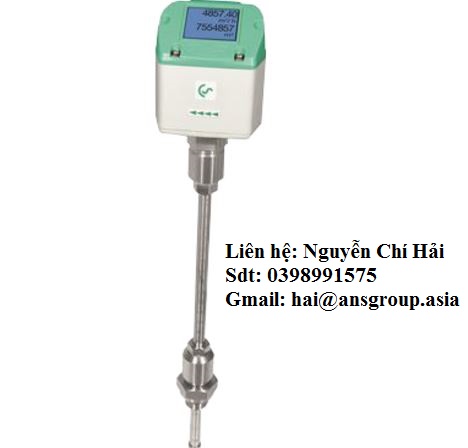 VA 500 - Flow sensor
Xuất sứ: Germany
Nhà cung cấp: Anh Nghi Sơn – ANS VietNam
Hãng sản xuất: CS Instruments Viet Nam
Liên hệ tư vấn
Mr Hải

hai@ansgroup.asia

0398.991.575

live:hai_502
VA 500 - Flow sensor Cs Instrument VietNam, Flow sensor VA 500 Cs Instrument VietNam, 0695 5001 Cs Instrument, Cs Instrument Đại Lý Việt Nam.
Cs Instruments Vietnam​. Nhà cung cấp Anh Nghi Sơn - ANS Viet Nam.
Cung cấp tất cả máy móc, thiết bị của Cs Instruments Vietnam​.
Flow sensor for compressed air and gas - VA 500
Contrary to the previously used bridge circuit the newly developed evaluation electronics of our flow sensor records all measured values digitally. This leads to a better accuracy also in case of large measuring spans of 1:1000.
Special features of flow sensor VA 500:
RS 485 interface, Modbus-RTU as a standard
Option integrated display for m³/h and m³
Usable from 1/2" to 12" (DN 300)
Easy installation under pressure
4...20 mA analogue output for m³/h resp. m³/min
Pulse output for m³
Inner diameter adjustable via keypad
Consumption counter resettable
Adjustable values at the display of the flow sensor: Reference conditions, °C and mbar, 4...20 mA scaling, pulse weight
TECHNICAL DATA VA 500
Parameters: m³/h, l/min (1000 mbar, 20 °C) in case of compressed air resp. Nm³/h, Nl/min (1013 mbar, 0 °C) in case of gases
Units adjustable via keys at display: m³/h, m³/min, l/min, l/s, ft/min, cfm, m/s, kg/h, kg/min, g/s, lb/min, lb/h
Adjustable via keypad: Diameter for volume flow calculation, counter resettable
Sensor: Thermal mass flow sensor
Measuring medium Air, gases
Gas types are adjustable over CS service software or CS data logger: Air, nitrogen, argon, helium, CO2, oxygen, vacuum
Accuracy: (m.v.: of meas. value) (f.s.: of full scale) ± 1.5 % of m.v. ± 0.3 % of f.s. on request ± 1.0 % of m.v. ± 0.3 % of f.s.
Operating temperature: -30...110 °C probe tube -30...80 °C housing
Operating pressure: -1...50 bar
Digital output: RS 485 interface (Modbus-RTU), Optional: Ethernet-Interface PoE), M-Bus
Analog output: 4...20 mA for m³/h e. g. l/min;
Pulse output: 1 Pulse per m³ or per liter galvanically isolated. Pulse value can be set on the display. Alternatively, the pulse output can be used as an alarm relay
Supply: 18...36 VDC, 5 W
Burden: < 500 Ω
Housing: Polycarbonate (IP 65)
Probe tube: Stainless steel, 1.4301 Mounting length 220 mm, Ø 10 mm
Mounting thread: G 1/2"
Ø Casing: 65 mm
Mounting position: any
Measuring range:
Max-version (185m/s)
Z695 5003
High-Speed-Version (224 m/s)
Z695 5002
Option display:
with integrated display
Z695 5000
without display
Option signal output / bus connection:
Standard
Ethernet-Interface for VA500/VA520, FA500
Z695 5006
Ethernet-Interface PoE for VA500/VA520, FA500
Z695 5007
M-Bus (pulse output not available)
Z695 5004
Mounting length / shaft length:
220 mm
ZSL0220
120 mm
ZSL0120
160 mm
ZSL0160
300 mm
ZSL0300
400 mm
ZSL0400
500 mm
ZSL0500
600 mm
ZSL0600
700 mm
ZSL0700
Surface condition:
Special cleaning - oil and grease free (e.g. for oxygen)
0699 4005
LABS free and silicone free version incl.cleaning oil and grease free
0699 4007
Special measuring range:
Special measuring range freely selectable
Z695 4006
Accuracy class:
± 1 % of measured value (precision)
Z695 5005
Further accessories:
Ball valve I/I G 1/2" stainless steel
3300 0002
Welding neck, L = 35 mm male screw, R1/2",stainless steel 1.4301
3300 0006
Welding neck, L= 35 mm, male screw, R1/2",stainless steel 1.44571
3300 0007
M12 – T plug for VA 500/520 to connect several sensors
020000823
Connection cables:
Connection cable for VA/FA, 5 m, with M12 plug
0553 0104
Connection cable for VA/FA, 10 m, with M12 plug
0553 0105
Connection cable for VA/FA, 20 m, with M12 plug
0553 0120
Ethernet-connection cable length 5 m, M 12 plug x-coded (8 poles) to RJ45
0553 2503
Ethernet-connection cable length 10 m, M 12 plug x-coded (8 poles) to RJ45
0553 2504
Cable for alarm-/pulse output for dew point sensors/ flow sensors with M12 plug,
lenght 5 m
0553 0106
Cable for alarm-/pulse output for dew point sensors/ flow sensors with M12 plug,
lenght 10 m
0553 0107
CS Service software incl. PC connection set for FA/VA 5xx sensors
0554 2007
Mains units:
Mains unit in wall housing for maximum 2 sensors of the series VA/FA 5xx,
100-240 V, 23 VA, 50-60 Hz / 24 VDC, 0.35 A
0554 0110
AC adapter plug 100-240 V AC/ 24 V for VA/FA 500/520
0554 0109
External display, chart recorder DS 400
0500 4000
Calibration and adjustment - Hiệu chuẩn
Real gas calibration for oxygen (O2) with cleaning - free of oil and grease
3200 0010
5 point precision calibration of new instrument with ISO certificate
3200 0001
Real gas calibration
3200 0015
Liên hệ: Nguyễn Chí Hải
Sdt: 0398991575
Gmail: hai@ansgroup.asia