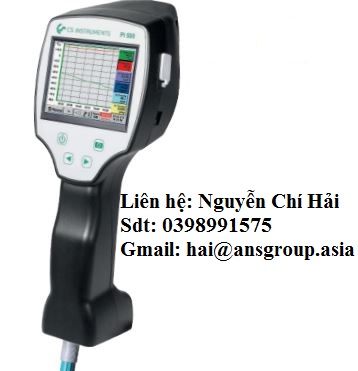 PI 500 Portable flow measurement Cs Instruments, Portable flow measurement PI 500 Cs Instruments, Cs Instruments Đại Lý Việt Nam
Xuất sứ: Germany
Nhà cung cấp: Anh Nghi Sơn – ANS VietNam
Hãng sản xuất: CS Instruments Viet Nam
Liên hệ tư vấn
Mr Hải

hai@ansgroup.asia

0398.991.575

live:hai_502
PI 500 Portable flow measurement Cs Instruments, Portable flow measurement PI 500 Cs Instruments, Cs Instruments Đại Lý Việt Nam.
Cs Instruments Vietnam​. Nhà cung cấp Anh Nghi Sơn - ANS Viet Nam.
Cung cấp tất cả máy móc, thiết bị của Cs Instruments​.
The new PI 500 is an all-purpose hand-held measuring instrument for many applications in industry like e. g.:
•Flow measurement
• Pressure/vacuum measurement
• Temperature measurement
• Moisture/dew point measurement
The graphic indication of colored measurement curves is inimitably. Up to 100 million measured values can be stored with date and name of measuring site. The measured values can be transferred to the computer by means of al USB stick. The data can be comfortably evaluated with the CS Basic software.
Measured data and service reports can be issued easily and quickly. The following sensors can be connected to the freely configurable sensor input of PI 500:
• Pressure sensors (high and low pressure)
• Flow sensors, VA 500/520
• Temperature sensors Pt 100, Pt 1000 / 4...20 mA
• Dew point sensors FA 510
• Effective power meters
• Optional third-party sensors with the following signals: 0...1/10 V, 0/4...20 mA, Pt 100, Pt 1000, pulse, Modbus.
Special features:
• Universal sensor input for lots of common sensor signals
• Internal rechargeable Li-Ion batteries (approx. 12h continuous operation)
• 3.5" graphic display / easy operation via touch screen
• Integrated data logger for storage of the measured values
• USB interface for reading out via USB stick
• International: Up to 8 languages selectable
INPUT SIGNALS
Current signals internal or external power supply Measuring range Resolution Accuracy Input resistance (0...20mA/4...20mA) 0...20 mA 0.0001 mA ± 0.03 mA ± 0.05 % 50 Ω
Voltage signal: Measuring range Resolution Accuracy Input resistance (0...1 V) 0...1 V 0.05 mV ± 0.2 mV ± 0.05 % 100 kΩ
Voltage signal Measuring range Resolution Accuracy Input resistance (0...10 V / 30 V) 0...10 V 0.5 mV ± 2 mV ± 0.05 % 1 MΩ
RTD Pt 100 Measuring range Resolution Accuracy -200...850°C 0.1°C ± 0.2°C (-100...400°C) ± 0.3°C (further range)
RTD Pt 1000 Measuring range Resolution Accuracy -200...850°C 0.1°C ± 0.2° (-100...400°C)
Impuls Measuring range Min pulse length 500 µs frequency 0...1 kHz max. 30 VDC
TECHNICAL DATA PI 500
Display: 3.5˝ touchpanel TFT transmissive, graphics, curves, statistics
Interface: USB interface
Power supply for sensors:: Output voltage: 24VDC ± 10% Output current: 120 mA in continuous operation
Power supply: Internal rechargeable Li-Ion batteries, charging time approx. 4 h, PI 500 continuous operation> 4h depending on power consumption for ext. sensor
Power adapter: 100 - 240 VAC / 50 - 60 Hz, 12 VDC - 1A, safety class 2 only for use in dry rooms
Dimensions: 82 x 96 x 245 mm
Housing material: PC/ABS
Weight: 450 g
Operating temperature: 0...50°C Ambient temperature
Storage temperature: -20 bis +70°C
EMC: DIN EN 61326
Sensor input: For connection of pressure and temperature sensors, current clamps, external sensors with 4 ... 20 mA, 0-10V, Pt 100, Pt 1000, Modbus
Memory Size: 8 GB - Memory card standard
ORDER-NO
0560 0511
Z500 5107
Z500 5106
0554 8040
0554 6510
Liên hệ: Nguyễn Chí Hải
Sdt: 0398991575
Gmail: hai@ansgroup.asia